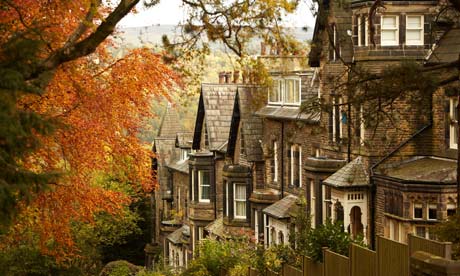 I posted a bit back about the 'Islam in the West: Key Issues in Multiculturalism' event, or 'conversation', as part of the Ilkley Literature Festival.

What I said then turned out to be more or less correct. Then again, you didn't need to be a brain surgeon to realise that; just not a professor at Leeds Metropolitan University or a member of the left-liberal Ilkley middle-class.

Never before had I seen such a large group of mutual-masturbators outside a SWP conference. To guess (what else could it be but a guess?), 99% of the audience was utterly committed to multiculturalism. Perhaps 95% were also utterly committed to Islam's being a positive contribution to UK multiculturalism. Exactly what I expected. Exactly what we got.

A part-reason for such high percentages of naiveté was the equally high percentages of not just middle-class audience members, but upper-middle-class ones. Such people exuded their class. (The fact that they were Leftists or liberals is irrelevant.) Their privilege. Their security. Their hypocrisy. Their naiveté and ignorance – perhaps self-imposed for ideological reasons.

And being left, liberal and left-liberal members of bourgeoisie (the local elite), was precisely the reason why these people have such a rose-tinted view of Islam and Muslims. They've never even seen, not even through their binoculars, the Muslim ghettoes ('enclaves') over Ilkley Moor in Keighley, or in the other direction in Bradford. They have no idea about the hundreds of beatings there have been in these ghettoes for all those whites or non-Muslims who dared to enter Dar-al-Islam. They didn't seem to know about the grooming gangs, the many rapes and the drug pushing. They didn't even seem to know about the militants and Islamists either. Or is it that they did know but they have self-deluded themselves for ideological reasons or for reasons of politically-correct piety and self-regard?

Of course the panel was middle-class too. Except that the Marxist editor amongst them might deny that because Marxists can't be middle-class (he a 'worker' – he works) – or so Marxists say. They certainly pit themselves against the state, of which universities are, in many respects, a part.

All the panellists were from Leeds Metropolitan University. All of them championed both the negative and positive aspects of multiculturalism. So there was no REAL debate. In fact there was no debate at all. Just politically-correct pieties and left/liberal soundbites far worse than anything from the lips of Blair or Cameron (just different).
Emeritus Professor Max Farrar was suitably vague lest something controversial or unsound was said. Dr Paul Wetherly, a 'soft Marxist' according to Farrar (are their soft Nazis?), rejected the 'common culture idea' of Cameron and the many others who are not overly keen of societal atomisation and ultimately civil war. (Marxists will laugh at this because they ignore what's going on in Oslo, Sweden, parts of Holland and what's been going on in the Paris 'Muslim enclaves'.). Indeed he seemed to praise atomisation. As a Marxist, anything which helps destroy 'Western capitalism and imperialism' will be fine by him.

Yasmin Valli, a Muslim place-person who simply had to be there, is also a professor of sports or something. Her contributions just didn't fit in. It was about madrasses in the UK. Far too specific to be in a 'conversation' about Islam and multiculturalism. (Actually, the debate was actually about multiculturalism, and hardly at all about 'Islam in the West'.)

Professor Reverend Simon Robinson, interfaith proselytiser (doing the da'wah), gave the best talk and it included some interesting points. However, with one hand he hinted at multicultural - and even interfaith - critique, only to take it away with the other hand. ('We must criticise other faiths in order to see the faults with our own faith.') And he also seemed very keen on my not having the microphone after my first interjection.

The 'audience-questions session' was shameful. Almost completely pointless. One of the panellist's sociology students controlled who spoke. Not on that. The only thing that happened was that an audience member offered at the most two sentences and then the mike was taken away. And then the panel pontificated again for about ten times the length of the audience contributor.

At one point when I had my say I was told to 'shut up' by an Ilkleyite who seemed keen on patronising the two non-Ilkley Muslims in the audience (probably from Leeds Met).

The way the audience reacted to my statement of fact that Islamists were strongly influence by the Nazis (in the 1930s, 40s and way beyond) and that ALL Islam is political was like the way middle-class 'reactionary' Victorians reacted to the sight of naked piano legs or uncouth commoners. These people were exactly the same, except for the fact that they were nearly all left wing or liberal lovers of multiculturalism and all examples of the Other. The same class as the Victorian middle-class snobs. The same behaviour. The same snobbery. And probably the same Fabian hatred of the white working class, which even many Marxists admit to nowadays.